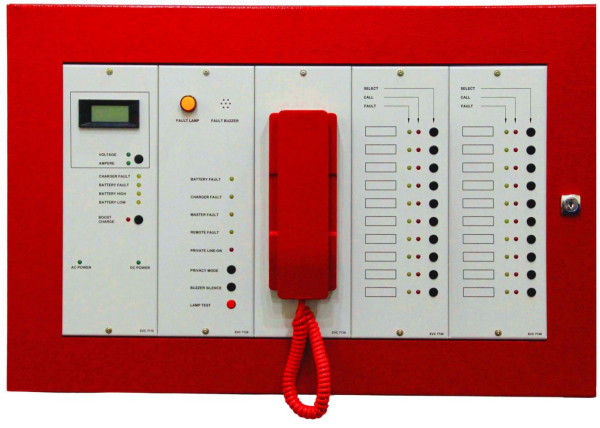 Fireman Intercom System
Tec Revox takes pride in offering Fireman Intercom solutions that are not only fully certified but also compliant with pertinent testing and regulatory authorities. Our Fireman Intercom System stands out as a reliable solution for two-way communication that aligns with strict Building Standards and Requirements.  We excel in crafting tailored solutions that cater to a range of needs and budgets. Specifically designed to meet the requirements of firefighters, our systems provide dependable and efficient communication solutions, especially crucial during critical situations.
Key Features That Define Safety:
Reliable Power Backup: Seamless automatic power switch-over to battery backup ensures uninterrupted communication in case of AC power failures.
Voice Recorder Integration: We provide voice recorder interfaces for recording purposes, delivering a comprehensive solution for documentation and analysis.
Supervised System: Our systems undergo
thorough supervision, encompassing wiring, with audible and visual alerts for
any malfunctions, accompanied by clear indications of the affected zone at the Master Intercom Panel.
Conferencing Capabilities: Master handsets can seamlessly conference with multiple remote handsets, facilitating enhanced collaboration during emergencies.
Selective Zone Calling: Experience precise communication at the Master Intercom Panel, enhancing efficiency during critical scenarios.
Configuration and Expandability: Tec Revox's Fireman Intercom Systems prioritize user-friendliness, designed for easy configuration and expansion, accommodating evolving needs with ease.
Elevate Safety, Elevate Excellence
Tec Revox's Fireman Intercom Solutions redefines safety and connectivity within your building. Contact us today to ensure compliance with the highest standards and regulations while enhancing security. Our dedicated team is your steadfast partner, committed to delivering excellence in every system we provide.